Why talented software engineers could decide to leave Big Tech companies and join Michelin IS & Digital teams?
In many companies, "climbing the ladder" usually means one thing: being promoted to the hierarchical managerial or functional managerial ranks. Nevertheless, there are plenty of valuable, talented individual contributors who have no interest in managing others, organizing steering committees, or being responsible for a team's work. But still, they want to progress in terms of responsibilities in the company, being recognized for their impacts and progress in terms of pay and professional prestige (recognized inside & outside the company).
Michelin has created a third pathway, which we internally call 'Management of expertise' to offer a way up for employees who want to grow and progress around their domain of knowledge.
While this 'career ladder for technical roles' is becoming increasingly common in IT tech companies (see staffing.com), particularly those that have a large technical organization and complex technical projects like Google, Amazon, and Microsoft, this is not the case for an industrial company, especially for those that are over 100 years old like Michelin.
Initially developed for our R&D department, this third path is starting to spread all across the company and we, at IS & Digital department, are actively deploying it since 2018 to, among other things, retain our best talents, attract new ones, and stay competitive in a rapidly changing industry. Back in 2018, we believed that this could help us in several ways:
Recognition of expertise: Helping us to recognize the expertise and contributions of senior technical talents within the company, boost their morale and increase job satisfaction.
Career growth opportunities: Providing a clear career path for technical talents, helping them to see a future with us and giving them purpose and direction.
Technical leadership: Providing coaching & guidance to junior engineers, raising the overall technical skill level of our teams and improving the quality of IT solutions.
Competitive advantage: Having strong technical talents to succeed in the modernization of our Information Systems, boosting our software delivery excellence that drives Michelin's competitiveness as software is at every step of the value chain.
How is our management of expertise pathway organized?
In the IS & Digital department, our management of expertise pathway is organized around 4 domains of technical leadership and 3 levels of responsibility.
The 3 levels we have defined are:
IT Expert
Distinguished Engineer (D.E.) also called Senior Principal Engineer in other parts of the company.
Fellow
Fellow and Distinguished Engineer are job positions. IT Expert is not, but rather a badge that recognizes an individual contributor (developer, architect, security analyst, SRE, …) who delivers outstanding performance, demonstrates a high level of seniority in their current job and in addition begins to demonstrate technical leadership.
This last point is very important. Technical leaders of our 'Management of expertise" must use their technical expertise with leadership skills to have a bigger impact in the organization: helping others to grow, influencing and elaborating new technical direction or paradigm change in the way of working. This is different from a true individual contributor, who can be a very good tech specialist, but lacking leadership skills needed to outperform and grow as an individual and go beyond the scope of his own activity. Some similarities exist with the 10x engineer persona that emerged in the industry. They want to expand their knowledge continuously. They communicate very well. They do see the bigger picture and are very good at fixing complex problems. They understand that all solutions are not equal, and it pushes them to find the right solution for a given problem. They are obsessed with keeping things simple and stupid (KISS). They take responsibility for what they do including their own mistakes. We're not looking only for good tech people. We do seek people that are good at technology and can impact the organization beyond what they do in their day-to-day jobs.
Furthermore, stepping into a 'management of expertise' role gets you closer to the strategy so you will need to spend time understanding it, interpreting it, influencing it and explaining it to your organization.
Coming back to the three levels introduced earlier, describing the abilities & competencies expected for each level, we didn't only use the T-shape metaphor but more a transition from T-Shaped profile to comb-shape as people will move from IT Expert to D.E. and Fellow position. It made the career path we created very concrete.
IT Experts are clearly T-shape professionals with deep expertise in one area and starting to demonstrate technical leadership.
Distinguished Engineers are more of PI-Shape professionals with more than one area of expertise, but with less depth than IT experts but with strong soft skills like leadership, influence, knowledge transmission and problem-solving.
Fellows are Comb-shape professionals, with a broader area of expertise but with less depth than IT Experts or DEs. On the other hand, he/she must demonstrate a broader knowledge across different disciplines and again strong soft skills like leadership, influence, knowledge transmission, problem-solving, but also impactful communication and self-awareness.
These 3 levels provide a career path to progress in terms of responsibility in the company, equivalent to the Hierarchical management and Transversal management pathways. This is one of our levers to develop a strong employee value proposition to attract and retain engineering/technical talent.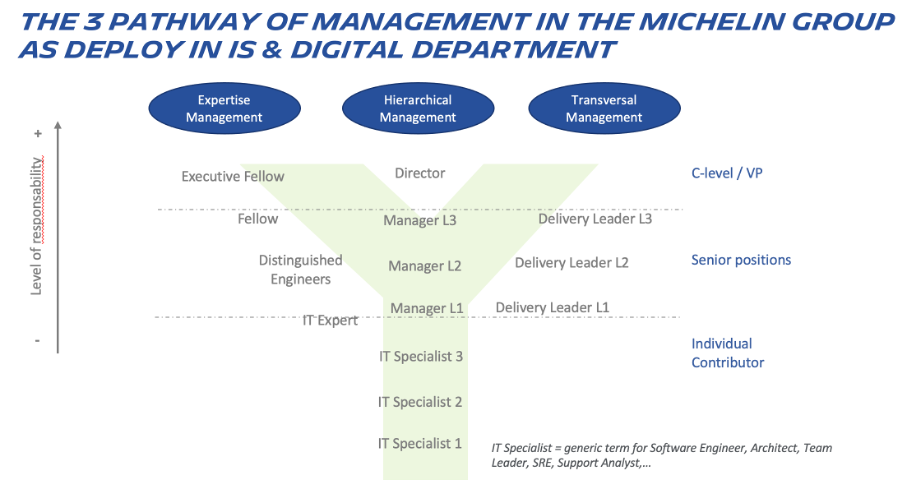 In addition to these 3 levels, we organized our "management of expertise" around 4 technical leadership domains where we want to shift the Michelin IS & Digital organization and create a big impact. These 4 domains are:
Information system architecture and software development
Secured IT services & operations
Data, Analytics and Artificial Intelligence
Digital Marketing Technology
There is no good or bad decomposition here, the criteria used to define these domains are:
Criticality of the expertise for the performance and the strategy of Michelin Group
Lack of maturity of our organization in the domain
Broad and constantly evolving field of knowledge
Willingness to develop this expertise within the Michelin Group.
A domain of leadership represents the perimeter of fellow job positions. Sub-domains are usually the perimeter of Distinguish Engineers. We use the rule of thumb to size these different levels: a fellow oversees 5-7 DEs and a DE oversees 5-10 IT Experts.

You'll find below an example of decomposition for the technical leadership domain 'Information system and software development,' with the different D.E. roles.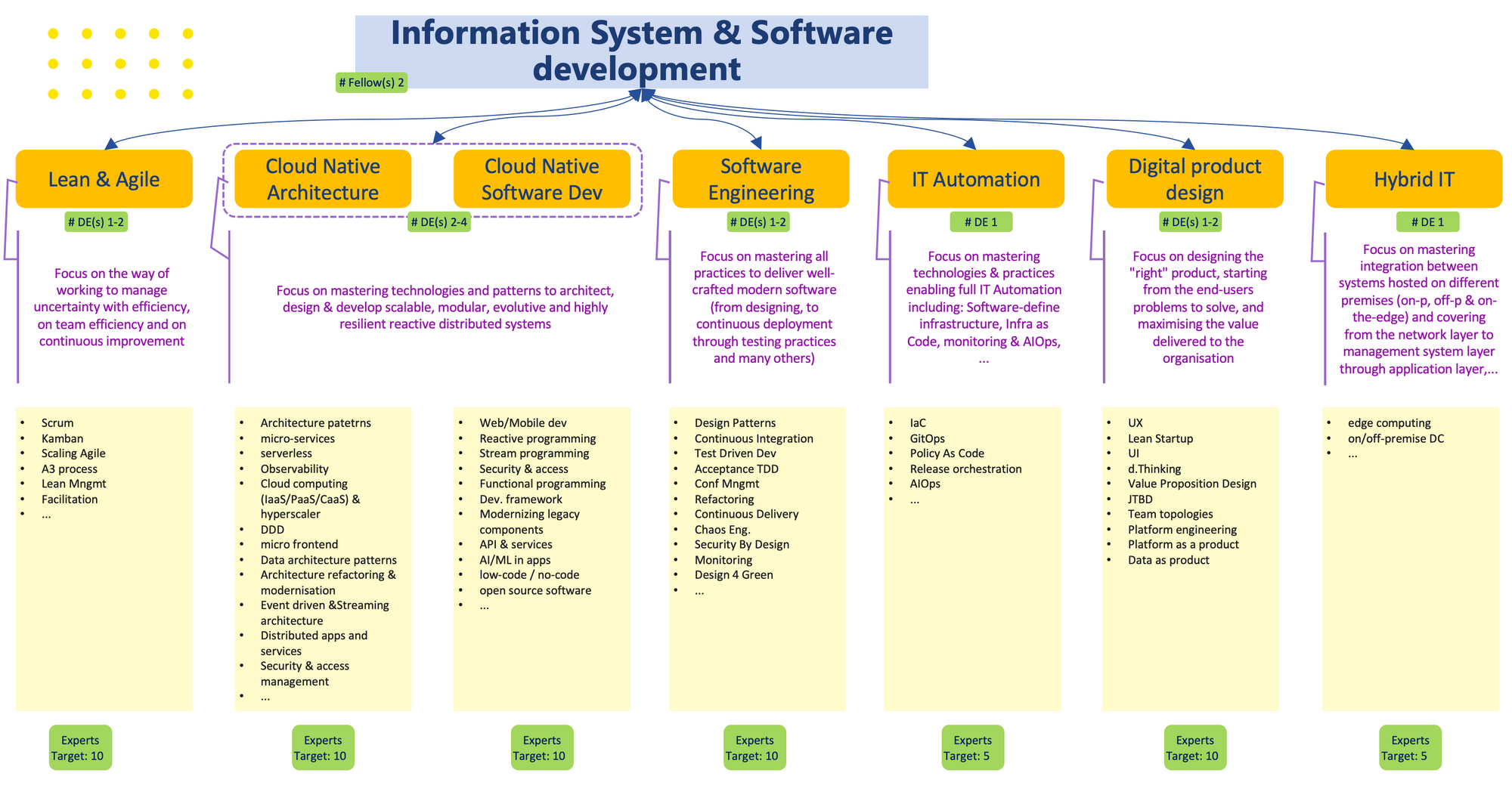 So, does it work?
The first results are encouraging. The management of expertise pathway is now well recognized internally and gives real development opportunities to our engineering talents. Even if none of our experts are (yet 😀) at a VP or C-level, some are just a level below, part of leadership teams. In terms of sizing, we now have 4 fellows, 5 DEs, and around 30 IT Experts nominated. More and more of our engineering talents are projecting themselves into this career path.
We start to see the career path we imagined getting real with some IT Experts climbing the ladder to DEs positions, and DEs moving to Fellow positions. Not only it makes concrete the opportunities we wanted to give them, but we see them progressing in the soft skills mostly communication, leadership, and influence.
Of course, some talents left the company these past few years. Probably, they felt that the mindset and the management system were not evolving fast enough for them. But we are also starting to see the opposite movement. Some of our senior talent, who had left the company seeing no perspective and attracted by big tech companies, are beginning to come back, bringing with them all the knowledge and technical leadership they have acquired.
So I will conclude with a testimonial from one of our engineering talents:
« As a datascientist, expertise pathway enables me to valorize my competencies within the group, far from my daily work scope. When you are interested in increasing your technical competencies, discovering new domains, sharing your knowledge and vision, our expertise pathway seems the perfect place to play.
In this AI world moving so fast, strongly pushed by the GAFAM, managing our Data & AI expertises within Michelin is essential. AI for industry is a specific game-changing area, expertise pathway helps us to attract and retain our talents to meet our AI ambitions. » - Rodrigue Decatoire, IT Expert Data, Analytics & AI